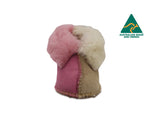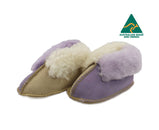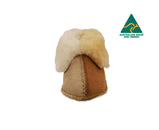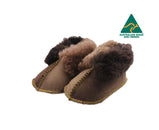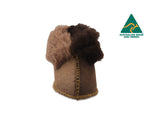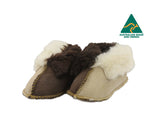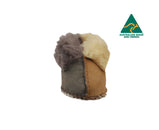 Bitza Baby Booties
Description
Soft Soled Baby Booties are made from Mortels® A-Grade Australian Sheepskin to suit from newborn to aged approximately 2 years.
Shoes size equivalents;
Small = size 2,
Medium = size 4
Large = shoe size 6
These Bitza Baby Booties are made from the off-cuts of our sheepskin footwear manufacturing, therefore made from the same materials and processed the same as our other footwear styles. We often refer to them as our factory 2nds meaning the 2nd cut of our sheepskins. So rarely two pair are ever the same!
Photos are a guide only, the colour combination you receive will not be the same as displayed. Think of these as a lucky dip for colour with our staff choosing a random pair for you.
The sheepskin components of the Fashion coloured Bitzas may include a combination of the following colours: Orchid Pink, Purple and Sand. 
The sheepskin components of Traditional coloured Bitzas may include a combination of the following colours: Sand, Chestnut, Mocha, Grey, and Choc
Footnote: As Bitza Baby Booties are part of our minimising waste and sustainable products initiative, sometimes sheepskins have natural slight blemishes and imperfections (such as seed spots or skin tags) so we use these skins in our Bitzas. This also helps us to produce a high quality ugg boot to sell at a much lower price. We do not supply any Bitzas with raw materials that are any less durable than any of our other products, but some may find these blemishes and imperfections not so aesthetically pleasing. Bitzas have our quality guarantee as with all our products however any blemishes and imperfections are not considered faults but are the characteristics of a natural product.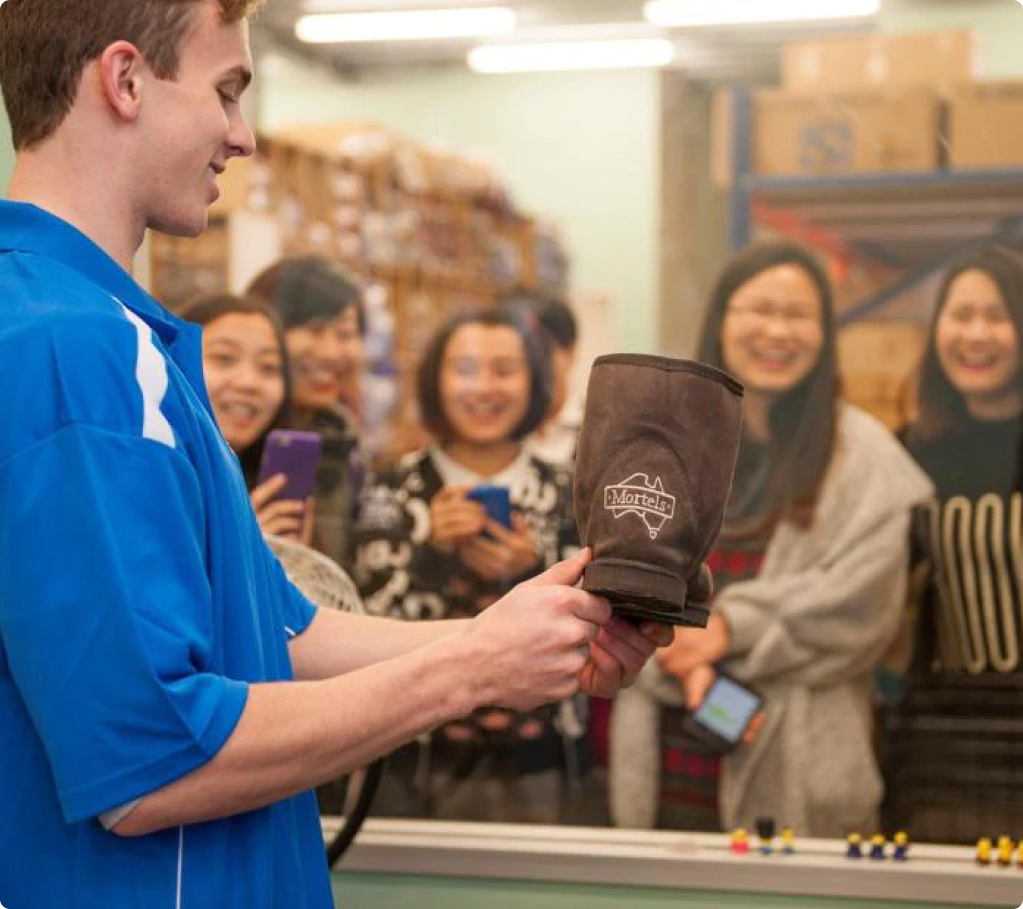 See how they're made
Factory Tours are currently available with pre-bookings only for a minimum of 6 adults. To book call 02 4966 0990.
See, hear and smell a world famous Australian product in the making at Mortels Thornton; an essential and interactive tour for any visitor.
You might also like
View Products