Classic Mid Australian Sheepskin Boots - Wild
Description
Mortels® Classic Mid 100% premium Australian sheepskin boots with stunning Snow Leopard print trimmings. These boots are a true marvel, combining style, comfort, and durability. Here's why our Classic Mid 100% premium Australian sheepskin boots are the ideal product for you:
·       Exceptional Australian Sheepskin: Crafted with Mortels® A-Grade Australian Sheepskin for the ultimate in comfort. Your feet will revel in the warmth and luxurious softness, making these boots your go-to choice.
·       Durable and Lightweight: The EVA hard-wearing yet lightweight flexible sole guarantees long-lasting wear without the added burden of weight. These boots are designed to be your reliable partner in all your adventures.
·       Unparalleled Strength: We've reinforced these boots with printed cowhide toe capping and heel support to provide exceptional strength and abrasion resistance.
·       Customizable Comfort: The removable and replaceable innersole fluffs enable you to customize the level of cushioning, ensuring a tailored comfort experience that suits you perfectly.
·       Australian Craftsmanship: By choosing Mortels® Classic Mid 100% premium Australian sheepskin boots, you're supporting Australian craftsmanship and tradition. These boots are a testament to top-quality materials and workmanship.
·       Perfect Height and Style: With a height ranging from 22.5cm for size 4 to 25.3cm for size 10, these boots offer the ideal coverage to keep you warm. Plus, the top can be rolled over to create a fleecy collar, adding a touch of style and flair.
Mortels® Classic Mid 100% premium Australian sheepskin boots with Snow Leopard print trimmings are perfection. They offer a unique blend of warmth, durability, and style that is unmatched. The added benefit of a customizable comfort experience and the ability to style them as you wish makes these boots truly exceptional. Don't miss the chance to own a pair of these remarkable boots that will elevate your fashion game and provide you with unrivalled comfort. Please note that colours may vary slightly due to current dye lots, ensuring that each pair is uniquely beautiful.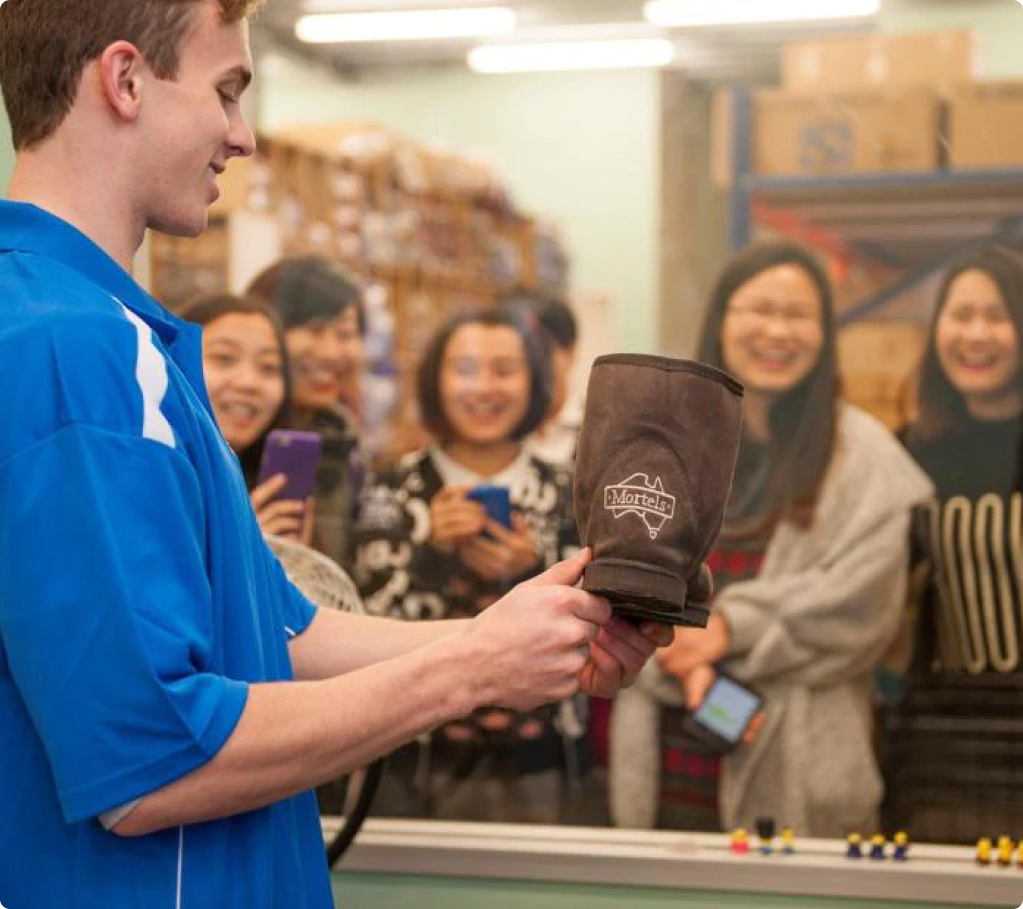 See how they're made
Factory Tours are currently available with pre-bookings only for a minimum of 6 adults. To book call 02 4966 0990.
See, hear and smell a world famous Australian product in the making at Mortels Thornton; an essential and interactive tour for any visitor.
You might also like
View Products