Long Classic Australian Sheepskin Boots (Sizes 13-14)
Description
THESE LARGE SIZES ARE MADE TO ORDER – UP TO 10 DAYS IN PRODUCTION.
Mortels® Classic Long 100% premium Australian sheepskin boots are the essence of timeless style and comfort. Crafted to perfection, these boots feature a range of exceptional qualities that make them a must-have addition to your wardrobe:
·       Premium Australian Sheepskin: These boots are made from Mortels® A-Grade Australian Sheepskin for unparalleled comfort and warmth. Your feet will be wrapped in luxurious softness.
·       Durable and Lightweight: The EVA hard-wearing yet lightweight flexible sole ensures lasting durability without compromising on comfort. These boots are designed to keep you agile and comfortable.
·       Superior Strength: With reinforced suede heel support and suede toe capping, these boots are built to withstand the test of time. They offer unmatched strength and resistance to abrasion.
·       Personalized Comfort: The innersole fluffs are not only removable but also replaceable, allowing you to tailor the cushioning to your liking. These boots provide a comfort experience designed just for you.
·       Australian Craftsmanship: By choosing Mortels® Classic Long 100% premium Australian sheepskin boots, you're supporting Australian craftsmanship and tradition. These boots are a testament to top-quality materials and workmanship.
·       Perfect Height and Style: With a height ranging from 35 cm for size 3 to 39 cm for size 12, these boots offer the ideal coverage to keep you warm. You can also roll the top over to create a fashionable and fleecy collar, adding an elegant touch to your attire.
·       Unique Sizing Recommendations: For women, we recommend sizing up to the nearest whole, while for men, sizing down to the nearest whole is recommended for a perfect fit.
Mortels® Classic Long 100% premium Australian sheepskin boots are a fusion of comfort, style, and durability. They are the ideal choice for those who value quality and elegance. Don't miss the opportunity to own a pair of these exceptional boots that will elevate your wardrobe to new heights of sophistication and coziness.
Please note that while we strive to show accurate colours, there may be slight variations due to dye-lot differences. However, what remains consistent is the extraordinary quality and comfort you'll experience with Mortels® Classic Long 100% premium Australian sheepskin boots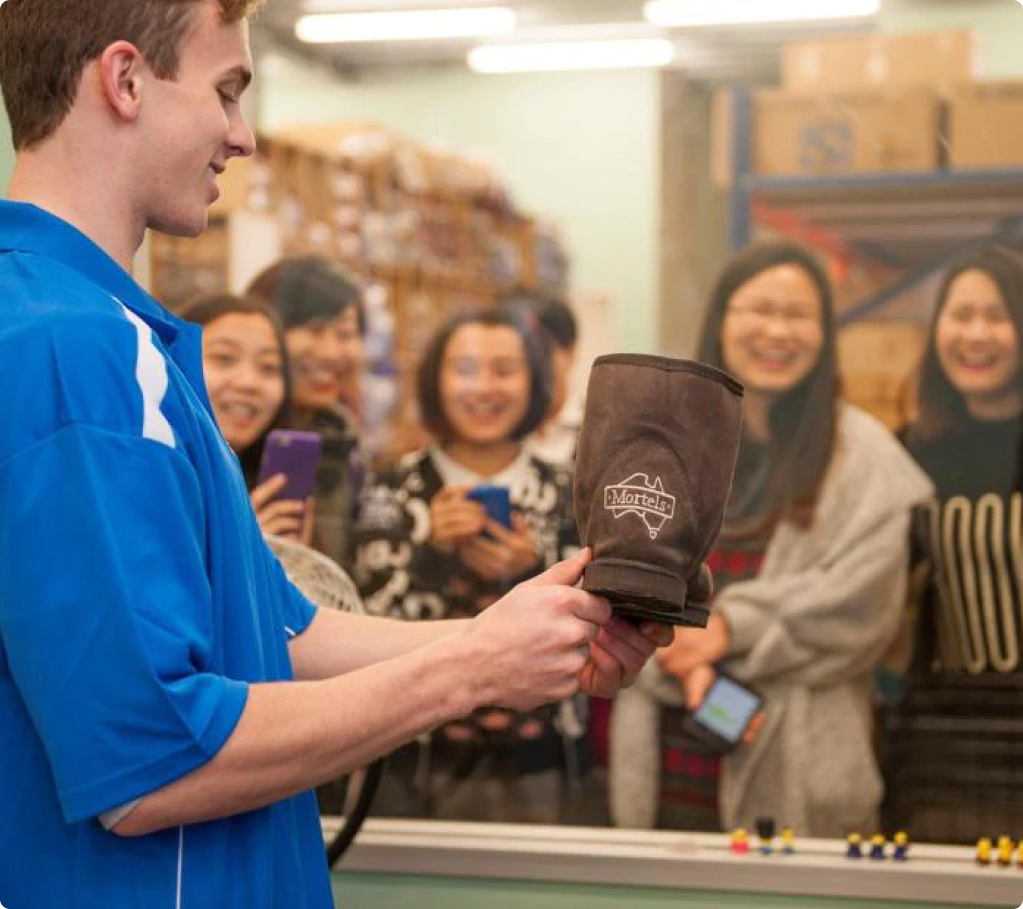 See how they're made
Factory Tours are currently available with pre-bookings only for a minimum of 6 adults. To book call 02 4966 0990.
See, hear and smell a world famous Australian product in the making at Mortels Thornton; an essential and interactive tour for any visitor.
You might also like
View Products