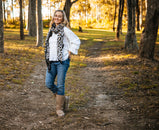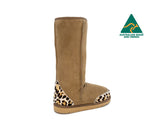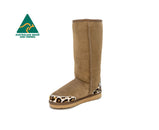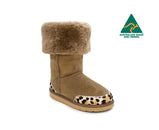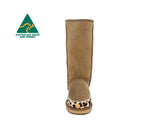 Classic Long UGG Boots - Wild
Description
Mortels® Classic Long UGG Boots adorned with stunning Snow Leopard print trimmings, an absolute masterpiece of design. These boots not only make a bold fashion statement but also offer exceptional comfort and durability. Here's why Mortels® Classic Long UGG Wild Boots are the perfect choice:
·       Luxurious Australian Sheepskin: Crafted with Mortels® A-Grade Australian Sheepskin, these boots provide unparalleled comfort. Your feet will delight in the warmth and softness.
·       Durable Yet Lightweight: The EVA hard-wearing yet lightweight flexible sole ensures long-lasting wear without adding unnecessary weight. These boots are built to accompany you on all your adventures.
·       Unmatched Strength: With added reinforcement through printed cowhide toe capping and heel support, these boots offer exceptional strength and abrasion resistance. They are designed to withstand the test of time.
·       Customizable Comfort: The removable and replaceable innersole fluffs enable you to tailor the level of cushioning to your liking. These boots offer a personalized comfort experience.
·       Proudly Australian Made: When you choose Mortels® Classic Long UGG Boots, you're supporting Australian craftsmanship and tradition. These boots are a testament to top-quality materials and workmanship.
·       Ideal Height and Style: With a height ranging from 35 cm for size 3 to 39 cm for size 12, these boots offer the perfect coverage to keep you warm. You can also roll the top over to create a stylish and fleecy collar, adding a touch of elegance to your outfit.
Mortels® Classic Long UGG Boots redefine fashion and functionality. They offer a unique combination of warmth, durability, and style that is unmatched. Don't miss the opportunity to own a pair of these exceptional boots that will elevate your wardrobe to a whole new level of sophistication and comfort.
Please note that while we strive to show accurate colours, there may be slight variations due to dye-lot differences. However, what remains consistent is the extraordinary quality and comfort you'll experience with Mortels® Classic Long Wild UGG Boots.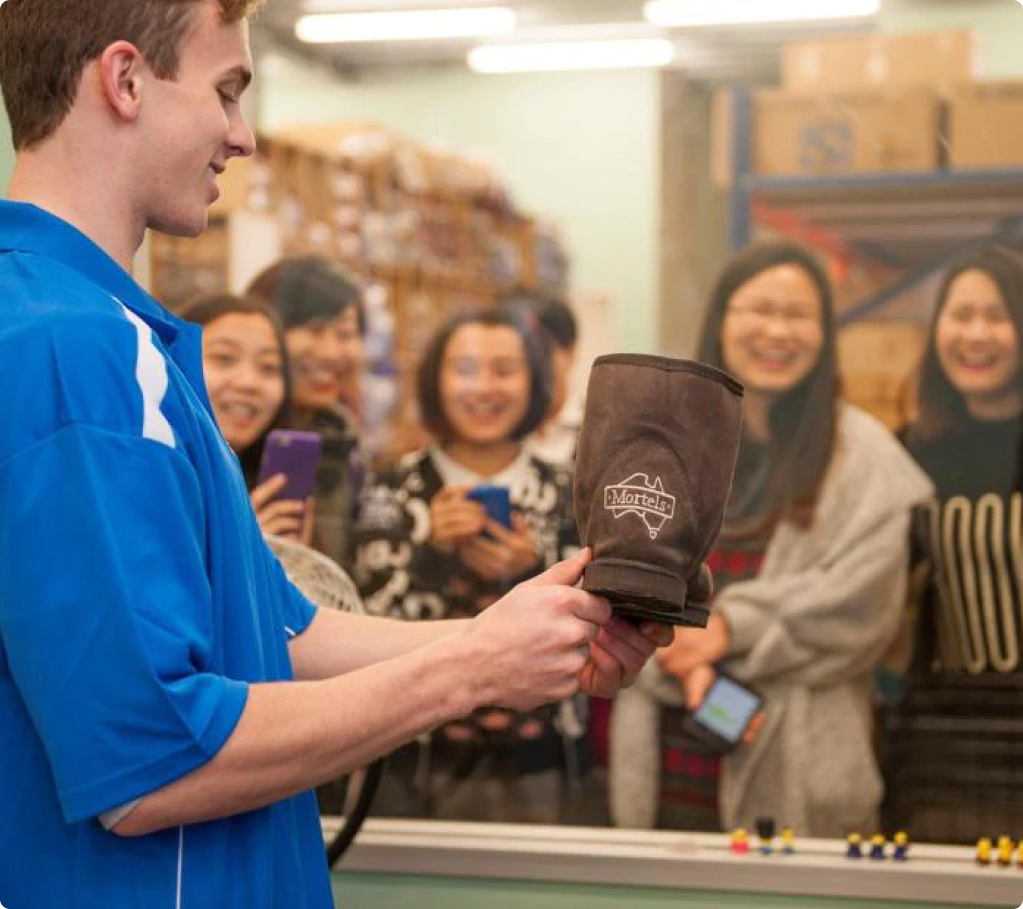 See how they're made
Factory Tours are currently available with pre-bookings only for a minimum of 6 adults. To book call 02 4966 0990.
See, hear and smell a world famous Australian product in the making at Mortels Thornton; an essential and interactive tour for any visitor.
You might also like
View Products