Classic Mid UGG Boots
Description
Imagine slipping your feet into a world of unparalleled comfort and style. Our best-selling Classic Mid UGG Boot is not just a fashion statement; it's a lifestyle upgrade that everyone deserves. Crafted from the finest 100% Australian breathable sheepskin, these boots are the essence of luxury and functionality.
These boots are incredibly versatile – perfect for indoor lounging, outdoor adventures, and everything in between. They are designed to keep you cozy in mild weather and warm during the coldest of days. With Mortels® Classic Mid UGG Boots, you'll be prepared for any season.
But what truly sets them apart is the removable innersole fluffs. Not only can you easily freshen up your boots, but you can also replace the innersoles, giving you that "brand new" feeling over and over again.
Mortels® Classic Mid UGG Boots are not just a pair of shoes; they're a masterpiece of quality and craftsmanship. Here's why you should have them:
·       A-Grade Australian Sheepskin: The upper and innersole are made from the finest Australian sheepskin, ensuring unparalleled comfort and durability.
·       EVA Flexible Sole: Our boots feature an EVA sole that's both hard-wearing and lightweight, providing the perfect balance of durability and flexibility.
·       Enhanced Durability: We've reinforced the toe and heel with suede capping and stiffened suede support for greater strength and resistance to abrasion and punctures.
·       Removable Innersole Fluffs: The ability to replace the innersoles means your boots will always feel fresh and new, year after year.
·       Australian-Made: We take pride in being an Australian brand, and our boots reflect the quality and craftsmanship of our nation.
The height of the ugg is approximate 25.8cm and can be rolled down for a stylish fleece collar.
Please note that while we strive to show accurate colours, there may be slight variations due to dye-lot differences. However, what remains consistent is the extraordinary quality and comfort you'll experience with Mortels® Classic Mid UGG Boots.
Don't miss out on the opportunity to elevate your footwear game and embrace the warmth and luxury of Australian sheepskin. Everyone deserves the ultimate UGG boot experience, and it all starts with Mortels® Classic Mid UGG Boots. Get yours today and discover the "ahhhhhhh" feeling that awaits!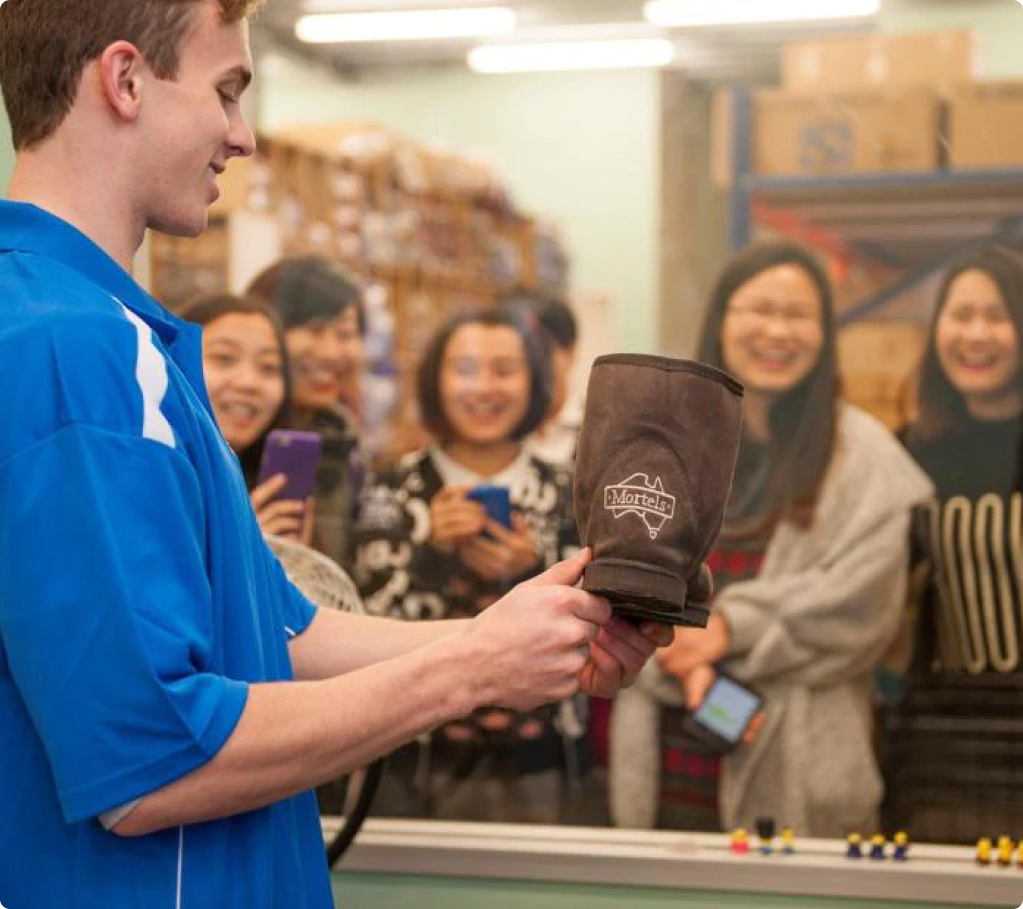 See how they're made
Factory Tours are currently available with pre-bookings only for a minimum of 6 adults. To book call 02 4966 0990.
See, hear and smell a world famous Australian product in the making at Mortels Thornton; an essential and interactive tour for any visitor.
You might also like
View Products